Inspiring and Motivating!
Quotation Plaques – $65
Please Know: When you purchase a quotation plaque or a book through the TPM portal, 100% of the funds are dedicated to fulfilling the positive TPM educational mission. Your purchase helps by expanding our radio broadcast markets,  printed book distribution, live presentations and Internet publishing.
Thank You for Supporting the TPM mission!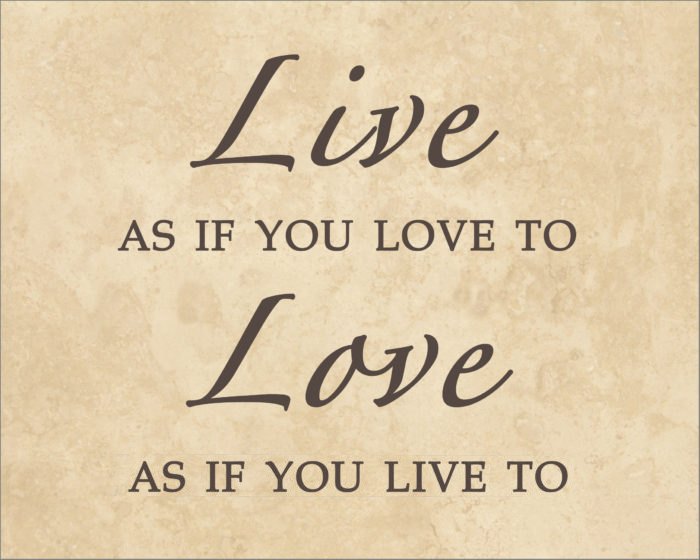 Your Quotation Plaque is:
Decor Friendly
Lightweight yet Solid
8 x 10 or 8 x 12 inches
Will not break
Can be cleaned with a damp cloth
Includes Shipping and Delivery in North America  (global orders slightly higher). Also includes Arizona taxes when required.
Choose Your Quotation from the list below.  Some are poignant, some telling, some touching and some compelling, but all can add interest to your wall.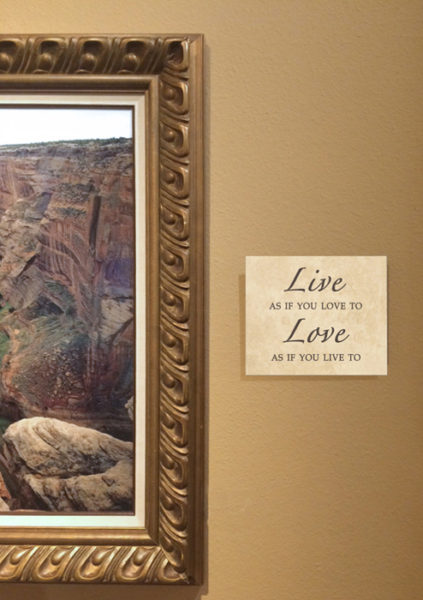 All quotation plaques come with an attached hanger  . . . . When it arrives it's ready to place on the wall.
Order by number: The Quotation ID numbers are listed below; the ID number is shown above the quotation it represents (i.e. number 100: is for "Live as if you love to, Love as if you live to"). Thank You for supporting the TPM educational mission.

CHOOSE A QUOTE BY NUMBER FROM THIS LIST
100:
Live as if you love to. Love as if you live to.
101:
Natural law, like natural food, is better for your health.
102:
Hunger is a catalyst for consumption, but not for commitment.
103:
Depth requires a much greater investment than breadth and width combined.
104:
Blood is thicker than water, but spirit is thicker than blood.
105:
I do not always feel the urge to climb to the top of the mountain. But to be in its presence, to     contemplate its magnificence in relationship to that which it dominates, that is much to be desired.
106:
Without someone willing to take a risk, none of us would ever get off the ground.
107:
Art is the outworking of the inward spirit.
108:
Glory assigned is greater than glory assumed.
109:
The mountain of success contains many stumbling stones; some are visible, most are not.
110:
Amongst those that take the lead are very few that should.
111:
Cultural spaces and personal phases are our most powerful influencers. We can, and likely will, migrate through many of them.
112:
Some I considered as great in heart, proved to be only great in lung.
113:
Whom or what we appear is just a page out of the cultural coloring book.
114:
Too much time spent in the egosphere increases the likelihood of slipping into social unconsciousness.
115:
Is the ocean to be advised by the cloud?
116:
Friendships based on mutual contempt can never attain the heights of those built on mutual love, respect and admiration.
117:
If you're not thirsting for pure water then there is nothing I can offer you.
118:
Pathways paved by principle are more suitable for passage than those paved by precedent.
119:
A smile isn't always what it's cracked up to be.
120:
Attention to detail has its own rewards, but it can make us lose sight of the bigger picture.
121:
It can be highly beneficial to linger in front of the mirror without the benefit makeup.
122:
Too many social models are known for mouthing peace while heavily investing their adherents into the mills of war.
123:
I will not allow disappointments to be my disappointment.
124:
Academic expertise is like the shadow of substance; it can cover a lot of ground but often lacks the dimension of experience.
125:
If you want to see people become more generous with you, convince them that you need nothing at all.
126:
Small minds spend much of their time sealing shut the windows that great minds have labored hard to open.
127:
Whenever anyone demands your allegiance they are notifying you of  your status.
128:
Law, like a suit of clothes, covers the body but does not control the spirit.
129:
If you're not encroaching on the rights of others to live their life without encroaching on the rights of others, then what could I possibly have against you?
130:
You won't really be free until you grant yourself the right to be.
131:
We cannot succeed as a global society until we are able to say that we only have pockets of prejudice rather than having to acknowledge that we only have pockets without it.
132:
Greatness is measured by balance, not by extreme bursts of power.
133:
I am not ashamed to utter the name of God and will always do so with reverence.
134:
A wound doesn't heal the body; the body heals the wound.
135:
As a social philanthropist I give what I have: myself.
136:
There are fires, floods, lightning, earthquakes, disease, and pestilence in nature but nothing has wreaked more devastation on humanity than that invented by our own hand: The Wheel.
137:
Returning to nature permits us to shed ourselves of the burdens we've acquired since the last time we stepped away from it.
138:
Opposition to standards of fairness and equity is a stand against humanity.
139:
My education has supplied vast amounts of questionable knowledge on an unending list of inconsequential subjects.
140:
Elitism can be tolerated as a spice, but is nearly always distasteful as a staple.
141:
There is no greater mission in the humanities than seeking the benefit for all.
142:
Freedom is inherent, enslavement imposed.
143:
What excites me is not the manipulation of nature, but simply being in its unbridled presence.
144:
Though I try to treat all people equally, due to their personal perceptions, some consider me a bit too cold, others a bit too warm.
145:
Culture and Choice are the primary factors determining the outcome of every life lived on Earth.
146:
Perspectives of life in their fullest dimension are the rewards for consciously living it.
147:
I will value life each and every day that it is in my possession.
148:
Inherent principles are natural laws in use by all of humanity.
149:
Power only corrupts the corruptible.
150:
Light in life is as essential as it is on the land. Without it we will simply grope, fumble, stumble and fall.
151:
The larger the magnet the more pinheads it will attract.
152:
I recall being taught in youth that what the world needs to bring it to peace is education; 'an educated world will abandon the ignorance of war' some proposed. But unfortunately this is not how it turned out. Educated warriors are wreaking more and greater devastation than ever in history.
153:
The more wonderful you are, the more wonderful we are.
154:
Peace can't visit if it has no place to stay.
155:
Some in media have yet to be potty trained; they continuously dump wasteful propaganda for effect, simply because they've never been trained not to.
156:
All money is fiat money.
157:
Their own beauty does not enrapture the truly beautiful.
159:
Love Life. There is nothing you can do for those that came before you, but much you can do for the living, and for those yet to come.
160:
Isn't it amazing what the daylight obscures?
161:
If positive principles cannot be seen as the way to address any problem, then the problem will likely be residing in the people propagating it.
162:
Responsibility, like an egg, will not hatch until it's been fertilized.
163:
Whenever science takes up residence in a space harboring selfish ambition or intent, it has been grossly debased.
164:
In death we are equal contributors to the recycling program overseen by nature.
165:
Measure begets measure – Treasure, treasure.
166:
I use my eyes to probe, to absorb, as a catalyst to feel and to taste, but I do not use my eyes to judge.
167:
Toleration, Consent and Participation are differing kinds of social permissions: you can tolerate the smoke from a campfire, you can grant permission for it, or you can contribute to the flame.
168:
The light within us is always burning. Our lights differ in brightness, intensity and hue, and of course, in what they attract.
169:
The windows of my soul are not for me to see out, but for you to see in.
170:
Some politicians don't have a life to manage, so they want to manage yours.
171:
We will never completely rid ourselves of social inequity, nepotism, injustice and the like. But because we know we can't achieve 100% is no reason to be satisfied with operating in the single digits.
172:
Nature and I have a long-standing arrangement: I will bring the passion, she will bring the superlatives.
173:
No matter how lovely the princess, she lacks the stature of a queen.
174:
The populace is the force behind all governance models; if not actively granted, authority is likely passively or uneasily permitted.
175:
There is more evidence for God than there is for us.
176:
I believe it is better to give than to receive, but I also know you cannot give until you do receive.
177:
It's not the color of your collar but the color of your currency that matters to most people.
178:
By the time it reaches us, nearly all history is fiction.
179:
A conclusion from thousands of cross-cultural interviews is that a 'Principles First' intellection is nearly universal.
180:
Many identified as shepherds are really only sheepdogs.
181:
Walking down a path at 3 mph and having a deer cross your path is quite different from driving down a road at 60 mph and having a deer walk out in front of you. The difference is the devastation, and the devastation is caused by the election to depart from the human scale.
182:
Tomorrow is just a split second away from today.
183:
Some are so firmly affixed to the receiving end they fail to discern that life's continuity is dependent on symbiosis.
184:
The planet needs more stewards, not more governors. The more one seeks to govern, the less likely will they be a steward of Earth.
185:
Time is on the side of those who reinvest it.
186:
"I waited for you but you did not come" I cried; "And I for you" said the light.
187:
Some of our greatest tragedies have come from failing to differentiate between body and spirit.
188:
Don't kill time, infuse it with life.
189:
The person I am in conformity is not the person I am in reality.
190:
Weak communication is the mother of confusion.
191:
Since the dawn of civilization mankind has carried itself forward on two legs: one is science, the other art.
192:
You cannot be a loner and at the same time be a leader.
193:
Rather than gold being the standard let it be peace. The one that is the greatest peacemaker is the one to be given the greatest authority.
194:
The beauty I've stumbled across is often far more magnificent than the beauty I went to see.
195:
People are the living organisms of all human institutions and this is the singular reason why each will succumb to defilement and corruption.
196:
At what age does one cross the line between devaluing their youth and highly prizing the memory?
197:
I am a naturalist. My dwelling in the skirts of nature is not for the purpose of proving anything about it, but I rather that I should be proved by it.
198:
A word is dead
The moment it's said
But put it to ink
And it won't even blink
199:
Though a tempest blows, the flame of hope has not yet flickered.
200:
Happiness does not find you; happiness is where you find it.
201:
Ideas are something like $20 bills. Leave them lying around in the open and they are likely to disappear.
202:
Trees are a grand symbol of contentment. They often live much longer than we do but never get a change of view.
203:
Why is it that our most powerful and influential leaders must always guide us from the grave?
204:
Assertive forces want to keep us so befuddled and constantly confused that we can't tell left from right, right from wrong or wrong from reason.
205:
The little black dress shows that function also follows form.
206:
For the sun to rise in one location means that it has fallen in another.
207:
We will only perform on a universal level when we choose to acknowledge that we live in a universe.
208:
Those looking for something for nothing will seldom be pleased with the something for their focus is really the nothing.
209:
Dream often. But don't just dream. Dream with a view to waking up and living it.
210:
Ancestral research suggests I may be the sap of my family tree.
211:
When I witness people passing through spatial voids of reason it is my choice to avoid going with them.
212:
A person that spends much time around the gossip mill runs the risk of being consumed by it; being ground into nothing but distasteful verbal matter.
213:
Ever notice? Whatever the speed, there's always someone striving to overtake you.
214:
A truly wonderful thing about being human is the ability we have to raise ourselves above human nature.
215:
Dollars are not the correct currency with which to measure the devastations of human catastrophe.
216:
The new One World Trade Center in New York is more than a rebuild of the toppled towers, It is a symbol of the indomitable spirit of humankind. Knock us down and we're just going to get right back up again.
217:
It's an imperative that every instituted law has a reasonable exception.
218:
There are those that get exhausted merely thinking of my workload, while I get energized by doing it.
219:
All are servants, but not all are aware of it.
220:
My mind is free despite the fact that I'm circled by slave traders seeking to abscond with it.
221:
There is great distinction between vitality gained from sleep and vitiation from slumber.
222:
Passion for life is like riding waves of new light as it pierces darkness to flow wherever it will.
223:
If you think you've lost your sanity, perhaps you will find it in the garden.
224:
I know I belong to nature. Nature follows its own path and shows up whether or not it has an invitation.
225:
Let's make it Life Abundancy not Life Expectancy.
226:
We all live beneath a ceiling, there's only a difference in height.
227:
On the scale in which we perceive and appreciate the physical universe we have all been given a wealth  free for the taking, without respect to education, money, influence or power.
228:
Weakness chases money. Money chases strength.
229:
If we choose to live on the pallid side of a rainbow it is impossible to sense the magnitude of our losses.
230:
Where do we go for peace? for renewal? Virtually everyone goes to the palace of nature to find it.
231:
I'm not asking you to enter into my dreams . . . unless you choose to.
232:
It's not what you learn; it's what you know.
233:
Life is like a beautiful cake. Its ingredients must be beaten, whipped and passed through hell before they elevate in value.
234:
Every little meadow
Every little stream
The vastness of the ocean
And all that's in between
235:
More dangerous than a holster on the hip is a calculator in the hand.
236:
Law serves as the guiding light only until we realize that principle is the guiding light.
237:
In all the earth it appears that we are the only creatures engaged in a search for someone to blame.
238:
Peace enforced is not peace.
239:
Silence has more volume than a chorus of voices.
240:
Impossibility lives only in the head, not in the heart.
241:
While the less principled are stabbing you in the back, the more principled will be stabbing you where they think you can use it.
242:
Humanity will deliver what technology never can.
243:
When in despair never overindulge.
244:
Light is the master of darkness.
245:
A person should always be greater than their privilege.
_________________________________________
Please note:  You will receive an email confirmation of the order automatically and a second email confirming the quotation selected.  All quotation plaques will be produced in English unless otherwise requested.  All plaques identify the author.  Greg Lawson copyrights all quotations as part of his Trailside Musings or Out of Focus collections.  Plaques are shipped with North American shipping prices included. Most global orders will process at $20 higher due to increased shipping costs.  Multiple orders need to be processed one-at-a-time or by email or telephone. Multiple orders can be shipped together or individually.  Taxes are not collected for jurisdictions outside of Arizona and sales shipped to addresses in Arizona will process with taxes collected.