Greg Lawson's Skylight Show is about people, places and perspectives . . .

"When I was a little boy I was intrigued by the earth and its many places and creatures," Greg says. "I loved going to the city library to read books about foreign places, which had the natural effect of whetting my appetite for travel. At night, when it was time to go to bed I would crouch next to the little radio in my bedroom to see what distant  radio signals I could pull in. Clear night air would always reward me with voices coming in from far away places.  These experiences made me want to travel the world. Sometimes I would even dream of having a job in radio."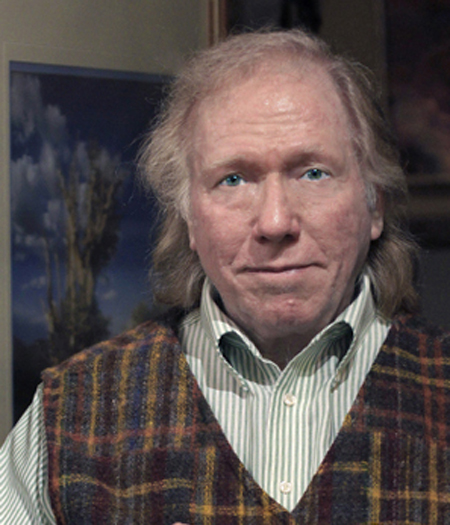 "Thanks to those books, and further stimulation from our family's continental road trips, the fires of wanderlust were continually being stoked. The radio gig, however, didn't arrive until my late twenties when I took a weekend job working 8 hours a day at KDB in Santa Barbara. Gathering, editing and reciting news on the hour was my task, all the while keeping the classical music format on the air between news breaks. That radio job proved to be a double milestone in life, first as it fulfilled a childhood dream; secondly, it turned out to be the last time I had an employer."
"Since then, I chose to be personally responsible to find my way. With a couple of minor exceptions, I've spent most years in the visual arts. As a photographer from the age of fourteen, I mastered all still-camera formats and, fueled by an intense passion for place, amassed a large collection of global images. Nearly always, my trips were self-funded and self-directed, which of course made much of my hunger self-induced. But that's the price of independence, and I really wouldn't choose to do it any differently."
"The richness of world travel is embodied in the connections we make and engagements we have with people and creatures found in unique cultural spaces. Language and culture differences are sometimes challenging, mostly rewarding and even exciting. Opportunities to experience Earth and its creatures at their immediate source proved quite formational too, for this is where the need for an unbiased social space, suitable for all humanity started tugging at me decades ago."
Greg Lawson's Skylight Show includes a feature called the "Wake Up Show" but it's not about waking from sleep, it's about maintaining conscious awareness of our opportunities to contribute positively to society.  "Discussing the positive use of inherent human attributes is something often consigned to non-profit or religious entities, but I think this  approach under-serves humanity because it limits the potential for all to be treated equally when it comes to acknowledging and promoting resources that all have inherited equally" Greg says.
Most importantly Skylight supports a Principles First concept. This a non-aligned ideal that has a positive and purposeful mission; one that is, in the most classic sense, 'of the people, by the people and for the people.'  Skylight supports the positive the use of inherent principles in life, encourages the recognition of these as natural laws gifted to all of humanity as part of our ancestral heritage.

The Skylight Show, produced by Terrestrial Public Media,  Thanks  Lynn Trombetta and Rick Cyge of Meadowlark Music for the use of their original score "African Skies" on Skylight which is heard online and in classic terrestrial broadcast markets. meadowlarkmusic.com